LAB NEWS Archives
The Hittinger Lab has grown in numbers this fall! We welcome Samantha, Ellie, Ritika, and Aaron as our newest Wild YEAST Hunters! We also welcome Edward, our newest hands that keep us clean, stocked, and organized.
PhD student Christina (Meihua) Kuang, et al., show how "ongoing resolution of duplicate gene functions shapes the diversification of a metabolic network."
Dr. David Krause joins the lab. Welcome, Dr. Krause!
Check out this article about our amazing summer RET, Lisa Sorlie! Have a great school year, Mrs. Sorlie.
What I did on my summer vacation!
David Peris, Quinn Langdon, and colleagues show how rare North American wild isolates of Saccharomyces eubayanus are related to each other and domesticated hybrid lager yeasts.
Spanish language press release
Congratulations to Dr. Bill Alexander on his new job! He has accepted an exciting opportunity at Muse Biotechnology, an up-and-coming genome engineering and synthetic biology company based in Boulder, Colorado. There he will set up the yeast side of their rapidly growing operation.
Awards Season for lab members!
Emily Baker, author of The genome sequence of Saccharomyces eubayanus and the domestication of lager-brewing yeasts has won MBE's best student paper award for 2015! Congratulations, Emily!
We also want to congratulate Max Haase, Martin Jarzyna and Ryan Moriarty, all undergraduate researchers in our lab, who have won research awards. Great Job All!
Max won a prestigious Hilldale Undergraduate/Faculty Research Fellowship.
Martin won a Lakeshore Nature Preserve Student Engagement Grant.
Ryan and Max both won awards from the Laboratory of Genetics to support their research.
Two lab members also won awards to attend The Allied Genetics Conference in Florida this summer. Congratulations to Dr. David Peris Navarro and Max Haase.
Dr. Russell Wrobel joins the lab!
Dr. William Alexander published a paper in PNAS titled:
Horizontally acquired genes in early-diverging pathogenic fungi enable the use of host nucleosides and nucleotides.
Members of the Hittinger Lab share their knowledge of colony morphology and genetic heretability in yeast at the 2016 Tree of Life event. Large numbers of eager students joined us for the afternoon to learn with labs. Thank you to all who worked hard to make this event a huge success!
Hittinger and colleagues publish a review on "Genomics and the making of yeast biodiversity" in Current Opinion in Genetics and Development.
William G. Alexander and colleagues publish a new method for making synthetic yeast hybrids for brewing and biofuels research.
Download the paper here!
Check out the UW Press Release here!
For more great press on this paper, check out the press followings on our Press page!
Dr. Jacek Kominek joins the lab. Welcome to the USA!
EmilyClare Baker and colleagues publish Saccharoymces eubayanus genome in new paper.
"Lager yeasts did not just originate once. This unlikely marriage between two species, genetically as different from one another as humans and birds, happened at least twice. Although these hybrids were different from the start, they also changed in some predictable ways during their domestication," said Chris Todd Hittinger.
Here is the official press release from MBE
UW-News Press Release by David Tenenbaum

Download the paper here!
Dr. Dana Opulente joins the lab. Welcome Dr. Opulente!
Chris Hittinger has been selected as one of the two recipients of the Alfred Toepfer Faculty Fellow Awards.
The one-year award is bestowed on pre-tenure faculty whose research benefits agricultural activities within the United States and whose areas of interest lie in the scientific fields of crop research, improvements in crop yield and quality, or animal sciences. The award can also go to faculty members whose agricultural research is considered biological or physical in nature. This award is supported by the Alexander von Humboldt Foundation.
April 20, 2015
Chris Hittinger is mentioned in Rebecca Blank's Op Ed piece in the Milwaukee Journal Sentinel "Economic success depends on UW, other public universities". Check it out!
April 7, 2015
Bucky Badger came to the Hittinger Lab to meet Blastobotrys buckinghamii, one of the eight newly discovered yeasts published by Kayla Sylvester.
Read all about it!
University of Wisconsin-Madison NEWS - March 13, 2015, by David Tenenbaum
UW Extension - Bucky yeast joins list of new yeast discoveries - March 13, 2015 (audio file)
Kayla Sylvester and a team of Wild YEAST researchers publishes a paper on a survey of our wild yeast samples, and describes eight new yeast species! Download here!
Temperature and host preferences drive the diversification of Saccharomyces and other yeasts: a survey and the discovery of eight new yeast species.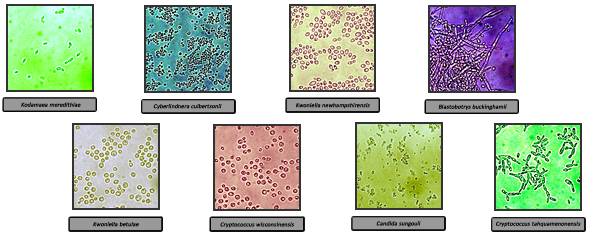 And check out the great press this publication is getting!
Check out "Forever Rising", by Terry Devitt, the feature article (and cover) of the Spring 2015 Grow Magazine, Wisconsin's magazine for the life sciences. Download the pdf here!
Dr. William Alexander and Drew Doering publish a paper on genome editing...
High-efficiency genome editing and allele replacement in prototrophic and wild strains of Saccharomyces.
~ September 12, 2014 ~
Drew Doering wins the UW Genetics Retreat Poster Award for early-years PhD Candidates! Congratulations, Drew!
Christina Kuang and Drew Doering win CMB Travel Awards! Congratulations Christina and Drew!
~ September 10, 2014 ~
Chris Todd Hittinger, Cletus P. Kurtzman, and Antonis Rokas have been awarded a Dimensions of Biodiversity grant from the National Science Foundation! "The Making of Biodiversity Across the Yeast Subphylum" or Y1000+ Project will sequence the complete genomes of all ~1000 described species of Saccharomycotina yeasts and explore how genetic and ecological diversity have evolved across hundreds of millions of years. Apply now to join the project as a postdoctoral researcher or student!
~ September 9, 2014 ~
William G. Alexander, Drew T. Doering, and Chris Todd Hittinger publish a new method for efficient genome editing and allele replacement in wild and industrial yeasts! The accepted version of the paper appears online in Genetics . The Haploid Engineering and Replacement Protocol (HERP) cassettes are available (email), along with detailed protocols describing their use.
~ June 24, 2014 ~
Chris Hittinger is named a Pew Scholar in the Biomedical Sciences. Please see the press releases by the Pew Charitable Trusts and University of Wisconsin for more information.
~ June 2014 ~
The Hittinger Lab welcomes Michael Price, REU, and Sarah Wright, RET, to the lab for summer experiments and learning!
We also wish Qi-Ming Wang, visitor from the Bai Lab in China, the best for the rest of his career!
~ May 2014 ~
Drew Doering, PhD candidate, has won a Genomic Sciences Training Program traineeship based on his project "Mapping functional consequences of sequence divergence in yeast and beyond via pooled allele swapping". To see more about GSTP, please continue here.
~ April 9, 2014 ~


David Peris and collaborators' research into Saccharomyces eubayanus diversity appears on the cover of Molecular Ecology! This new work shows that S. eubayanus, one of the parents of hybrid lager-brewing yeast, is native but not endemic to Patagonia. Diego Libkind isolated highly diverse strains in Patagonia, but Kayla Sylvester isolated rare strains in Wisconsin. These are the first pure S. eubayanus strains isolated from outside of South America, and their low diversity and mosaic genetic makeup suggest that they are recent migrants. In contrast with Patagonian S. eubayanus, we show that hybrid European brewing strains have very low diversity. Read the UW press release here.
Supplemental data is found here.
The S. eubayanus strains from Wisconsin are available for licensing. Click here for information.
Drew Doering joins the lab!
~ November 2013~
Mariana Lopes, a PhD candidate from Brazil, joins the lab! We are excited to have her with us for 1 year.
~ September 2013~
Wild YEAST program debuts at Wisconsin Science Festival September 29. Check us out!
Ryan Moriarty joins the Hittinger Lab as a Freshman Undergraduate Research Student in the WildYEAST program. Happy Yeast Hunting!!!
~ August 2013~
Quinn Langdon begins her NSF Graduate Research Fellowship on the "Ecological genomics of temperature preference in wild S. eubayanus yeast." Congratulations to Quinn on winning this prestigious fellowship!
~ Summer 2013~
"Chris Todd Hittinger, an assistant professor of genetics and a researcher with the Great Lakes Bioenergy Research Center (GLBRC), has won a National Science Foundation Faculty Early Career Development (CAREER) award to study how Saccharomyces yeasts...(read more)"
Qi-Ming Wang, a Senior Scientist from China, joins the lab! We are excited to have him learning with us for one year.
Our review on Saccharomyces diversity appears on the cover of "Trends in Genetics", May 2013
The WildYEAST program celebrates its second summer of research with two undergraduate researchers.
~ Winter 2012 ~
Emily Baker and Heidi tessmer join the lab!
~ Fall 2012 ~
New Lab Members:
Jin Kang
Russell Mendez
D. Peris Navarro, PhD

~ Summer 2012 ~
The Hittinger Lab hosts the first summer participants in the Wild YEAST Program. Participants take part in hands-on wild yeast isolation to identification, and beyond! Click on the logo above to learn more.
~ February 2012~
8th - Chris Hittinger presents The Origin and Evolution of Lager-brewing Yeast: Hunting Wild Yeast in Patagonia and Around the World. Click here to watch.
~ January 2012~
Kayla Sylvester joins the lab
~ December 2011~
Meihua (Christina) Kuang joins the lab
~ September 2011~
Brielle James joins the lab

~ 22 August 2011 ~
Our tri-continental collaboration reports the discovery of the missing contributor to hybrid lager yeast strains in the Proceedings of the National Academy of Sciences of the USA. This newly discovered species hybridized with a Saccharomyces cerevisiae ale yeast to form the lager yeast Saccharomyces pastorianus. Named Saccharomyces eubayanus for its relationship to the complex hybrid Saccharomyces bayanus, it thrives in the cool environment of Patagonia on southern beech trees and their sugar-rich galls (see pictures on this page and more here). Click here for a general summary from the UW press office. Click here for the genome sequence data. Click here to download the paper. (Photos by Diego Libkind)
~ 1 August 2011 ~
Dr. William G. Alexander joins the lab as our first postdoc!
~ 1 July 2011 ~
Hittinger Lab opens!
~ April-June 2011 ~

Our 6-lab Saccharomyces sensu stricto (SSS) consortium releases vastly improved complete genome sequences and a collection of genetically engineered lab strains for 3 species of yeast. The work is described in the inaugural issue of the new Genetics Society of America (GSA) open-access journal G3: Genes | Genomes | Genetics. Click here to download the paper. Click here to view all the supplements and browsers. Click here to request strains.